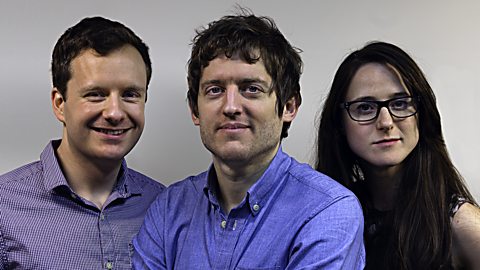 The fourth series of Elis James' Pantheon Of Heroes starts this Saturday (13th August) at 1pm on BBC Radio Wales.
Written by
Elis James
,
Benjamin Partridge
and myself and starring Elis, Ben and
Nadia Kamil
, this series is all about places, as opposed to people, so the three episodes cover Market Towns, Industrial Towns and Cities (although I have no idea what order our producer,
Sharif Shahwan
will choose to put them out).
Each episode will be on the BBC Radio Wales website for 30 days, so if you're reading this on or after 1pm on the 13th, head to the BBC Radio Wales website now to listen back to however many episodes you've missed.
While we're thinking further ahead - if you're reading this on-or-after the 18th August, you'll also be able to listen back to Fred MacAulay's Wet Hot Political Summer on BBC Radio 4 - Recorded at the Edinburgh Fringe Festival and which, by the time it is broadcast, I will have helped write (Haven't done anything for it yet though. It's topical. To do anything right now would be presumptuous).
And, considerably more straightforwardly, whenever you read this, you should be able to find the last few editions of my BBC Radio Wales Sunday show on the BBC Radio Wales website right now.