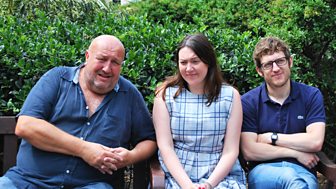 All four episodes of Ankle Tag are now available on the BBC Radio 4 website.
Written by Benjamin Partridge and I, the show stars Elis James, Katy Wix and Steve Speirs - all three of whom you can see in the incredible iPlayer photo on the left which, after four episodes, is still being used.
Ankle Tag is also this week's BBC Radio 4 Comedy Of The Week podcast - So download it now (or listen below if I can make the embed thing work*) to hear episode 1 - plus Elis and I being interviewed by Cariad Lloyd about the show (although they seem to have cut my bit on exactly how to disable an Ankle Tag. Probably very wise).
In other news, Series 4 of Elis James' Pantheon Of Heroes, written by Elis, Ben and myself and starring Elis, Ben and Nadia Kamil, has been nominated for a Radio Academy ARIAS award. The show isn't on iPlayer any more, save for this smidgen of it on Twitter and a couple of clips from Series 1-3 on the BBC Radio Wales website.
(*I can't).