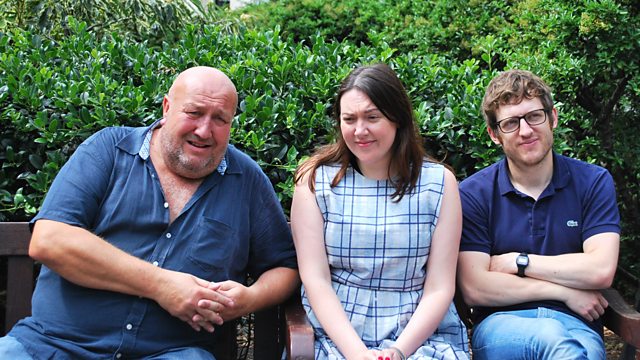 Ankle Tag - A brand new series of the sitcom I co-write with Benjamin Partridge starts on BBC Radio 4 on Wednesday 31st October at 6.30pm - and will then be available online immediately afterwards.
It starts Elis James, Katy Wix and Steve Speirs (pictured) and right now, thanks to BBC Wales' Festival Of Funny, all of series 1 is online too - The perfect opportunity to mainline the lot and really put this new BBC Sounds app through its paces.

Tourist Trap -The semi-improvised sketch-show set in a fictionalized version of the Welsh tourist board and starring pretty much everyone you like (pictured) has had the Box Set treatment from BBC Wales. As such every episode - including the ones that haven't even appeared on a proper telly yet - are available on the website now. Together with Sian Harries and Tudur Owen, I'm part of the main writing team for the show and I also provide the voice over - So when looking at the promotional photo of the show over on the left, imagine it's my voice reading all the bumph.
Gareth Gwynn's Twisted History of BBC Radio Wales
- I've just finished work on a brand new two-part edition of Twisted History, this time celebrating 40 years of BBC Radio Wales. The show is presented by me (pictured) and features Elis James, Nadia Kamil, Lynn Bowles and a healthy mixture of archive recordings taken out of context, or archive recordings in their correct context but sounding equally ridiculous. The episodes will be broadcast on the 5th and 12th of November and will be online afterwards.

And finally, I'm pleased to say I've been nominated for the
Gethin Thomas Comedy Award at this year's Audible Audio Production Awards. Having just checked, none of the shows which made-up my award entry are available online, but a short animation released to promote Just A Minute 50 Years In 28 Minutes is still on the show's webpage, so it's a handy excuse to pop that on the blog again...